FPS is one of teg most popular and played genre in the gaming industry. There are many FPS games available in the market and it is difficult to decide which one is the best and which is lesser. Either new games are introduced in the market, or the developers update old games so that people still show their interest in the game. Shooting games are something that interest everybody and also, many streamers or players play it to interact with the audience. Moreover, the fps games are the best to kill your time and show you skills in the game. In this article, we have mentioned different FPS games that you can play. We have mentioned the best in the market that you will find. Read the article to get the list of all the best FPS games.
List of best FPS games
1. Doom
The very first game on our list is Doom. You must have heard about the game or have played it. The recent version of the game was released in 2020 and with every release, the game becomes more interesting. This game was introduced by id software and is available for every platform. You will find it on all the platforms like PC, PS4, Xbox One, and more. One thing that you would want to know about the game is that this game can be played in Single-user mode, multi-user mode. It is up to you how you want to play the game.
The plot of the game is quite interesting and it will keep you interested in playing the game throughout. You may feel that the ammo provided to you are less but you can gain it by picking it up from the corpse of dead demons. Overall, it is a great game to play despite being one of the oldest games in the market.
2. Call of duty: warzone
The next game that we have on our list is the call of duty: warzone. It is another most commonly played game that is very famous among streamers and many teenagers. There are a lot of people who play Call of duty. This game is also available for different platforms. You can download the game for PC, Xbox One, and PS4. call of duty has been one on number one in many royale battle games for many years. By the time, the game comes up with different updations to maintain the interest of its audience. You can play the game in single-player mode or multiplayer mode. You can also play the battle royale mode or the deathmatch mode. Other than this, there are many maps available in the game. You can choose which map you want to play.
3. Half-life: Alyx
 Many people have not experienced playing half-life because it is a VR game. This game is one of the best VR games available in the market and you can download it from the internet. The plot of the game is quite interesting leading to a remarkable ending. But the game is worth experiencing if you have VR headsets. In case you have a headset or you can borrow it from a friend, you must try playing the game. The animations and the lighting of the game give you a very realistic look. In case you ever want to know about what is actually VR is, this game is worth a try.
4. Tom Clancy's Rainbow of Six Siege
Now, the other common and popular game that we are going to talk about is Rainbow of Six Siege. To score a good rank in the game, you will have to decide which door, wall, or floor you want to destroy. You can also choose which skill you want to opt for in the game. This game is multiplayer and you can communicate with your squad through voice chat, pings on the map or even more. You will have to play the game as a teammate and you can master the game in no time. You will have to survive in the game by protecting yourself and your team and destroying your enemies. Sometimes, the game takes an intense turn but what most matters in the game is your aiming tactics and your planning.
5. Apex legends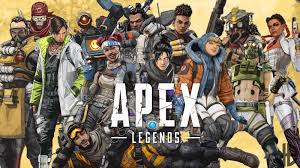 One of the best FPS games is Apex legends and you might have played it or watched others playing this game. It is another battle royale game on our list. You will have to make a team of three people who can choose their class. every class has its own skills that can be used accordingly in the gameplay. Other than this, you must play the game if you want to play something that focuses on speed also. While you are playing Apex legends, you will have to keep your aiming skill and speed in sync. There are two maps available out of which you can choose according to your choice. This game is a multiplayer game, you can not play it in solo mode. So, if you're looking for a game so that you and your friends can kill time together, this game is worth a try.
6. Overwatch
No list is complete without Overwatch when it comes to the best FPS games. This game is unique in its way. The plot of the game revolves around the future of the earth. This game is also a multiplayer game. In this game, players are divided into two teams, each team consisted of six players. These teams are known as heroes and every hero has its own ability. The game was released for Xbox One, PC, and PS4. With every new release, different features added in the game. You may find new maps, new characters, all this is free of cost. In case you are looking for a game to play with your friends, you can give a try playing Overwatch.
7. Player's Unknown Battleground (PUBG)
This game needs no introduction. This game has developed the interest of many people in FPS games. PUBG is available in the mobile version and the PC version. There are different maps available in the game out of which you can choose according to your choice. Other than this, you can land in the game using the parachute and the game starts from the plane. You can either play the game in the multiplayer mode or the solo mode. Other than this, if you feel that you are short on supplies, you can take supplies from the corpse of the enemy that you have killed or other person has killed.
8. Valorant
Valorant is another game on this best FPS games list. If you have played counter-strike, you can relate this game to it. Like many other games, if you are playing the game in multiplayer mode, the members of your team will have a different skill set. These skills can change the course of the game if the skills are used correctly. One of the major differences between the Counterstrike and Valorant is that the graphics of Valorant are more colorful and better than that of the CounterStrike. In case you are no more interested in playing counterstrike, you can switch to this game to try another game in the same genre. Other than this, we hope that different updations will be made in the game in near future.
9. Counter-Strike: Global Offensive (CS:GO)
Many people have played Counterstrike: Global Offensive (CS:GO) and it has been number one for a long time. The plot of the game can sometimes be intense as when you die in the game, all you can do is to watch your other team players playing. You can not respawn during the rounds. In this game, you will be provided with different maps that can judge your skills on different levels. If you want to enrich your skills in the Fps games and want to spend some good time playing with your friends, you can consider playing Counter-strike: Global offensive.
10. Team Fortress 2
Now, this is the last game on our list. There is a reason because of which this game is still on the list. This game is one of the best Fps games that you will get for PC. The plot of the game is simple. There is a team of 9 people and you will have to select a class of your choice and become a member of a team. You will then have to protect yourself throughout the game and destroy your enemies. Moreover, you will get different missions in the game that you will have to fulfill and proceed in the game. By this time, different characters and maps have been introduced in the game taking the game to another level.
Other than the games that we have mentioned, there are many other Fps games available on the internet. All the games that we have mentioned in the article are the best ones available in the market. We hope that this list of best FPS games will help you to decide which game you are going to try next. Download and play FPS games with your friends. We hope that you have found this article helpful.