Playing games on your system can occupy a large number of resources of your system only. Though you can play games on your system without any lags or technical issues, sometimes if you change the settings, the game can start lagging. The whole spirit of gaming will be spoiled if your system starts lagging or you are not able to play the game properly. There can be different reasons that can contribute to this issue but one of the common reasons is the low FPS. You can use different methods like terminating the background processes, updating the drivers, changing the settings to increase the FPS, and have a great gaming experience.
One of the simplest methods that you can use to boost the FPS of your system is to use the FPS booster software on your system. There are different FPS boosters available in the market. It can be difficult to select which one is the best. In this article, we are going to explain to you what FPS boosters are and how to use one. We have also mentioned a list of all the best FPS boosters that you can download on your system. Read the article to get the list of top FPS boosters available.
Top FPS boosters
Below we have mentioned some of the best FPS boosters available in the market. We have mentioned all the paid and free FPS boosters. Read all the FPS boosters below.
1. Game Fire 6 Pro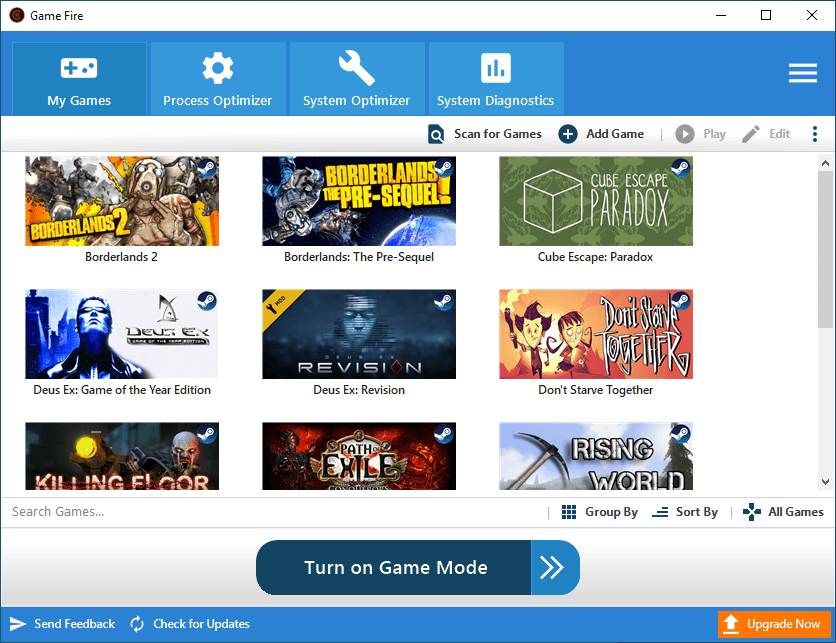 This is the one that we highly recommend you to try. Game Fire 6 pro is a paid FPS booster that you can use on your system. Before paying, you also get to use the free trial version of the software so that you can test whether you like it or not. If you like it, you can buy it. Other than this, this software works on a simple mechanism. It disables all the background processes that are running on your system. It makes sure that no such process is running on the system that can affect your game performance. Moreover, it provides you with a list of all the processes that you need to terminate before starting the game. So, if you are a gamer who wants to perform exceptionally in the game, this one is for you.
2. Wise Game Booster

The next one on our list is the Wise Game booster. This FPS booster is free to use. You can download the application from the official website and install it on your system to start using it. It is one of the best FPS boosters with a clean interface and is very easy to use. Whenever you start the game, it will end all the unnecessary programs running on your system. This is because then only your system can focus on running your game. Other than this, you can also use this FPS booster to stabilize your system so that it can run smoothly. So, if you want to optimize your system manually, you can go for this FPS booster. It is worth a try.
3. WTFast

In case you are facing high-ping issues or lag issues, you must consider using WTFast FPS booster. This software is specially designed to work with Windows 10. The main focus of this application is to increase the speed of the game you are playing. It can help you to increase the internet speed when you are playing the game. If the internet speed is good, you can perform better in gaming because it can lead to less or no lag issues. Moreover, for many streamers and people who play heavy FPS games, this software can be used to boost FPS. You may have to pay for using al; the features of the application. It does have a free trial but it is for a certain time. So, you will eventually have to pay to use this FPS booster on your system.
4. Gameboost
This is another FPS booster for Windows 10. This software has received great feedback from all the people who have used this software. GameBoost focuses on making sure that the components on your system are working at their maximum capacity. This software claims that they do not only focus on your game, but they also focus on getting a better internet speed. Moreover, this FPS booster will help you to enhance the animations, CPU performance, Screen drawings, and much more on your system to provide you with a great gaming experience. Other than this, what we love about this FPS booster is the interface. If you are new to using FPS boosters, this software is the easiest for you. You can navigate through different sections of the software very easily. Also, you will have to pay approximately 24 US dollars annually. There is no option for paying monthly.
5. MSI Afterburner

This is the last one on this list. This is one of the unique FPS boosters available on the internet. Using this fps booster will help you to even change the overclocking options for your game. Other than this, there are different other features that you can use. Features such as benchmarking, monitoring, video recording, or even changing the speed of your fan are also included in this software. Also, using MSI Afterburner, you can change the settings of your GPU. Though changing all these things can create some temperature or performance issues with your system but you will have to experiment and change the settings accordingly. You will have to manually change the settings to the one that is ideal for you. One of the best things about this software is that is it is free to use. You can download the software and install it to start using it for free.
You can use any of the above mentioned FPS boosters to boost the speed of your game or optimize your system. All that we have mentioned are legitimate to use. All the FPS booster that we have mentioned are available on the internet easily. We have chosen the best for you. Hopefully, you have found this article helpful and informative.